A day in the life of KDKA traffic anchor and PensTV host Celina Pompeani
Celina Pompeani has learned to balance a challenging schedule – working as a freelancer for KDKA-TV as a morning traffic anchor Monday through Friday and for the Pittsburgh Penguins as Pens TV host and producer. Now that the Penguins have been eliminated by the Washington Capitals in the Stanley Cup Playoffs, she will definitely get more sleep.
Late night playoff games limited her rest time but she wouldn't have had it another way.
"I love what I do and I am fortunate that both KDKA-TV and the Penguins have been so wonderful and so accommodating of my schedule," says Pompeani, 25, who started the freelance traffic job in October and has been with the Penguins since September 2014. "Both have embraced it and I think it's because they don't really conflict with each other and I will often mention the Penguins on one or more of my traffic reports. And I am looking forward to the challenge of next season – I will do it again."
Here's a look inside her daily schedule on a recent Stanley Cup playoff game day.
1:40 a.m. Pompeani sets eight alarms and also receives a call — or calls — from her dad, Bob, who is a sports director at KDKA-TV where he's worked since 1982 to make sure she is awake.
Her father will call until she answers and then he goes to sleep since they work opposite shifts (she does get to see him at Penguins games). She plans her outfit the night before. Her mother, Lisa, is her stylist, often suggesting clothes, shoes and accessories – which on this day included two Stanley Cup rings. The coffee maker is ready to go – filled with a minimum 10 cups — so all she has to do it hit the button to brew while she does her hair and puts on makeup.
2 a.m. While she's getting ready, she watches some HGTV – "House Hunters" is a favorite, she says — as she continues doing her makeup and styling her hair. She'll grab a protein bar for breakfast.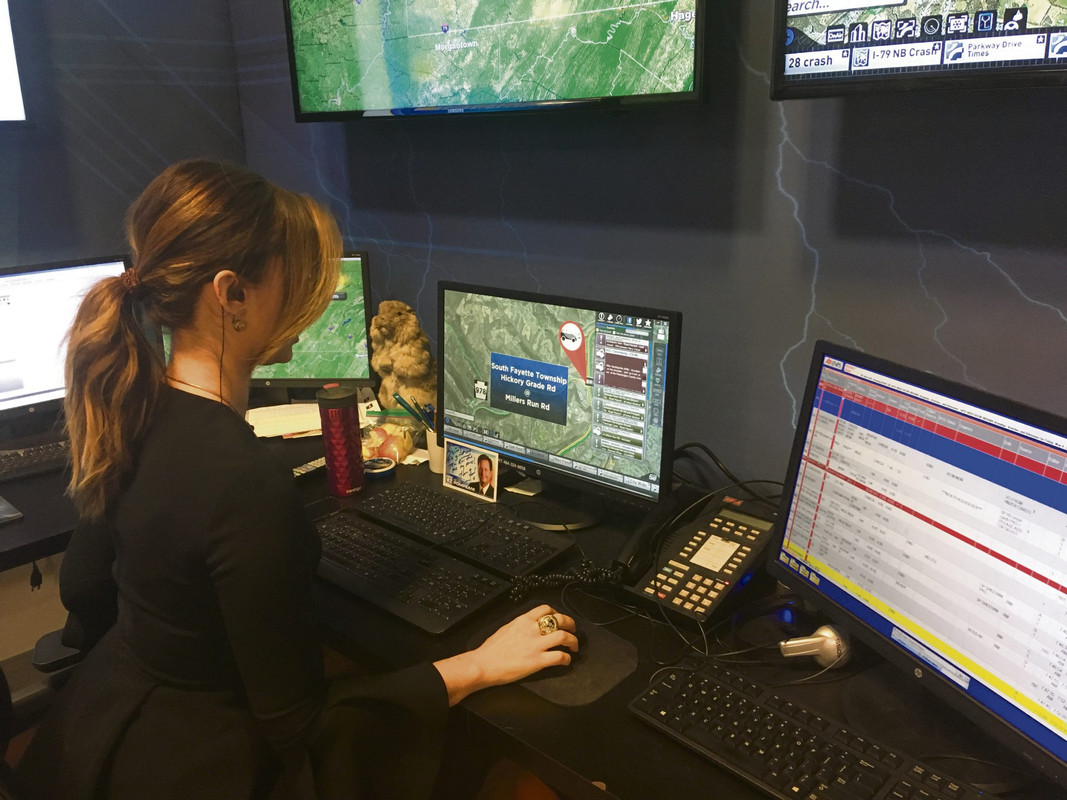 Celina Pompeani researches the morning traffic on several computers so she is prepared for her morning updates as a freelance anchor for KDKA-TV.
3:30 a.m. Arrives at KDKA-TV in Pittsburgh. Before she goes on air, she logs onto several computers to get a look at the roadways – which includes connecting instant message via Slack with Joan Bradley-Thompson, who is a stationed in Philadelphia where she is the traffic editor for U.S. Traffic Network, and reviewing emails from Pennsylvania Department of Transportation.
"Celina is always happy," says Sue Gaydos, KDKA-TV director. "She is so nice to everybody and she has learned everything so quickly. She is actively looking for traffic problems and accidents to report and offers something fresh and new each time she is on air."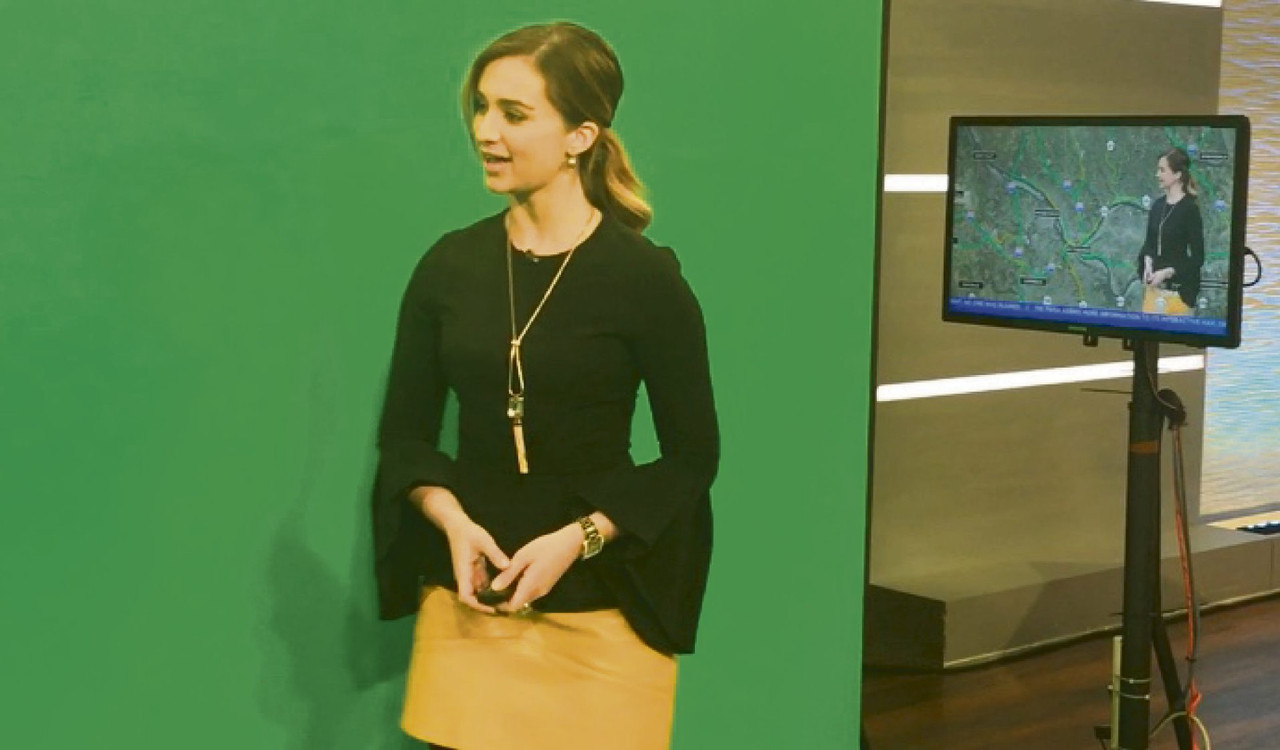 Celina Pompeani is doing one of her 19 on-air appearances as a freelance anchor for KDKA-TV.
5:01 a.m. This is her first on air appearance. She usually has 19 hits on air between 5 and 9 a.m., in between going back to the computers to build more maps and see the views from all of the traffic cameras as well as sneaking in a few bites of cut-up apple, or yogurt, on this day, a bowl of macaroni and cheese from a station party the night before and often her favorite snack is Doritos. She will talk with colleague meteorologist Ron Smiley about everything from weather to traffic to the Penguins.
"We've already had lunch by 8 a.m.," Smiley jokes. "I had some leftover ribs from last night's party, but, really, it is important what you eat and what times you eat because this isn't an easy schedule. You do get used to it."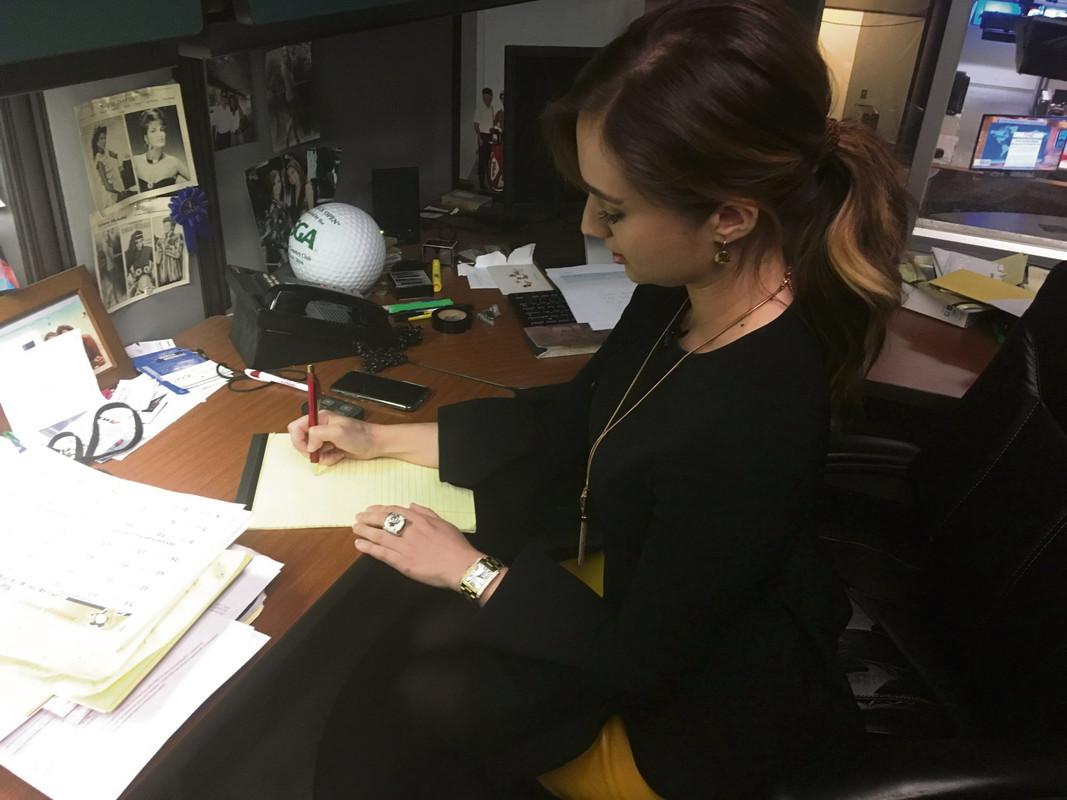 Celina Pompeani writes a note to her father, Bob Pompeani, in his office. He is sports director at KDKA-TV where she works as a freelance traffic anchor.
8:35 a.m. She walks upstairs to her dad's office and leaves him a note so he will get it when he comes in. The two exchange daily written messages.
9 a.m. Leaves KDKA-TV, goes home to take a nap, then work out for an hour.
Noon. Visits her parents where she eats lunch of sushi or a spinach wrap and visits with her 6-month-old niece Ellie. Ellie is one of Celina's Pompeani's biggest fans because her sister Chelsea, Ellie's mom, gets up early and she and the baby watch Aunt Celina on television.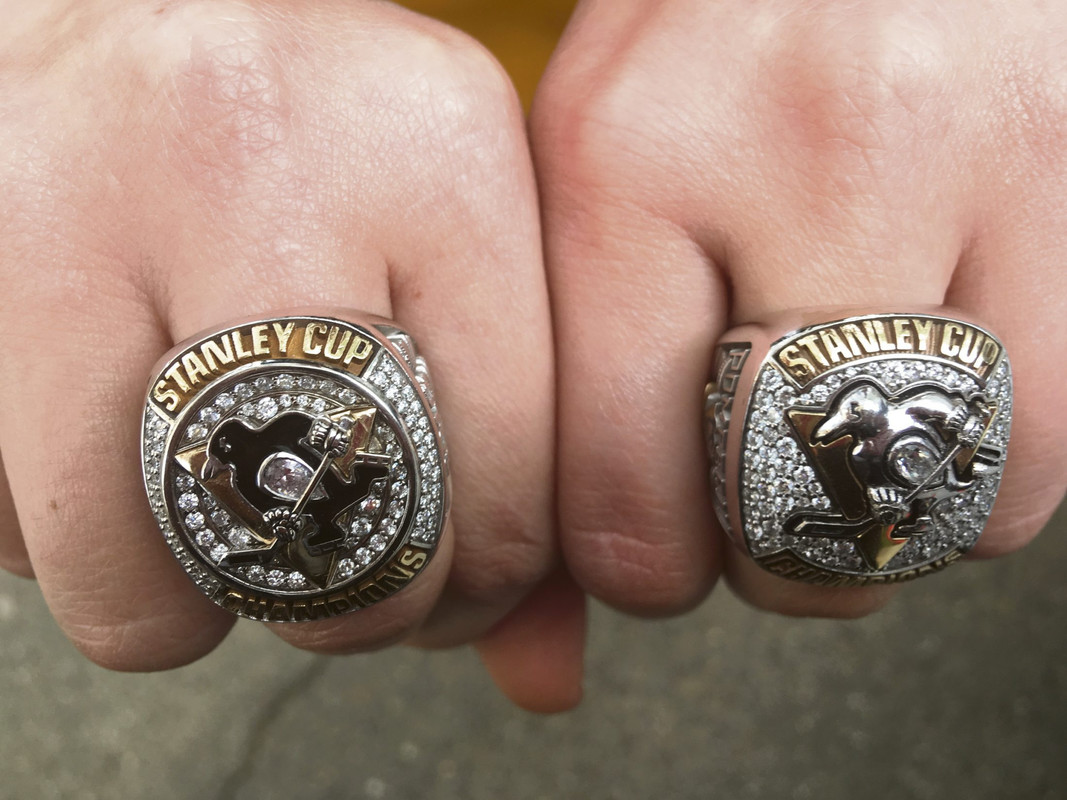 Pittsburgh Penguins Stanley Cup Champion rings from the past two titles on the hands of Celina Pompeani, who works for the team as PensTV host and producer.
2 p.m. Celina Pompeani changes into her Penguins' gear, because it's a game night in Pittsburgh. She dons a Penguins shirt, jacket and baseball hat.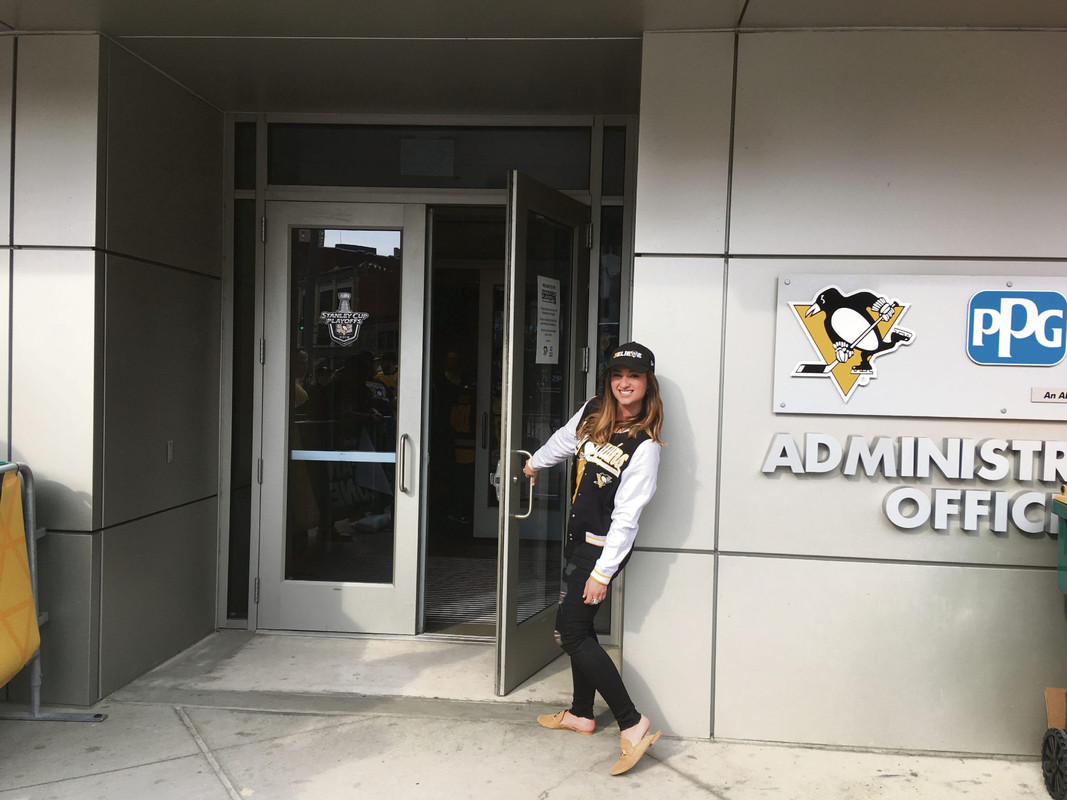 Celina Pompeani walks into PPG Paints Arena in Pittsburgh where she works as Pittsburgh Penguins PensTV host and producer.
3 p.m. Arrives at PPG Paints Arena.
4 p.m. Game meeting where Billy Wareham, director/event presentation of game operations for the Penguins, discusses the rundown of that night's show.
5 p.m. Pompeani greets the crowd outside of PPG Paints Arena, taking photos with some of the fans who are watching on the outdoor big screen. She ate dinner at the arena. It was Italian night.
9 p.m. Her in-game Penguins schedule varies throughout the season. She was on camera at second intermission of a recent home Penguins/Washington Capitals playoff game. She has between three and five live hits during a game.
Other duties include a weekly entertainment/social media segment called "Pens Trends," as well as live reporting during home games, and she's producer of weekly Penguins Foundation promos on AT&T Sportsnet. Pompeani credits Mike Davenport, manager production operations for the Penguins, is essential to successful video productions to the success of Pens TV and adds that she wouldn't be able to do what she does without Davenport, Wareham and Rod Murray, senior director, production and game presentation for the Penguins.
"Celina is a delight to work with, "says Murray. "She brings an amazing amount of energy and enthusiasm to her role as the face of PensTV and as our in game host. You will never see her without a smile on her face. She is always well prepared and takes full ownership of all of her assignments. All in all we're proud of whatever role we've been able to play in her professional growth and career aspirations. "
"I love the afternoon games," Pompeani says. "Because then I can get more sleep. I just try and make up for it on the weekends. In the off season, I still have things to do but the schedule is not as hectic. It's exhausting some days, but I have such great opportunities at both I want to do this as long as I can. I am such a bubbly person that the early mornings are good for me."
9:30-10 p.m. Leaves PPG Paints Arena. After most games her dad drives her to her car before heading to the station for the Nightly Sports Call.
10-10:30 p.m. Arrives home to take makeup off and take a shower and get ready for bed with a cup of hot tea.
JoAnne Klimovich Harrop is a Tribune-Review staff writer. Reach her at 724-853-5062 or [email protected] or via Twitter @Jharrop_Trib.
JOANNE KLIMOVICH HARROP
RON SMILEY
CELINA POMPEANI
JOANNE KLIMOVICH HARROP
JOANNE KLIMOVICH HARROP
JOANNE KLIMOVICH HARROP
JOANNE KLIMOVICH HARROP
JOANNE KLIMOVICH HARROP
JOANNE KLIMOVICH HARROP
JOANNE KLIMOVICH HARROP
JOANNE KLIMOVICH HARROP
---