One of the most anticipated super hero movies — "Captain Marvel" — got a major boost Wednesday when Entertainment Weekly posted a first look at the film on social media.
The magazine tweeted out its latest cover, featuring Brie Larson as the Marvel hero.
The issue, which hits newsstands Friday, will include exclusive first-look images and an interview with Larson and co-director Anna Boden.
In the article, Larson says, "She can be aggressive, and she can have a temper, and she can be a little invasive and in your face. She's also quick to jump to things, which makes her amazing in battle because she's the first one out there and doesn't always wait for orders. But the [not] waiting for orders is, to some, a character flaw."
"What makes her special is just how human she is," Boden says. "She's funny, but doesn't always tell good jokes. And she can be headstrong and reckless and doesn't always make the perfect decisions for herself. But at her core, she has so much heart and so much humanity — and all of its messiness."
Captain Marvel was teased at the end of "Avengers: Inifinity War."
The film has Larson playing Carol Danvers, a 1990s Air Force pilot. During an accident, Danvers' DNA is fused an alien's, giving her superhuman strength, energy projection, and the power of flight. It will include a younger Nick Fury (Samuel L. Jackson) — with use of both of his eyes. It also stars Clark Gregg as Agent Phil Coulson and Jude Law as Mar-Vell, Danvers' mentor.
On Tuesday, Larson alerted fans that she and EW would be posting something on Wednesday.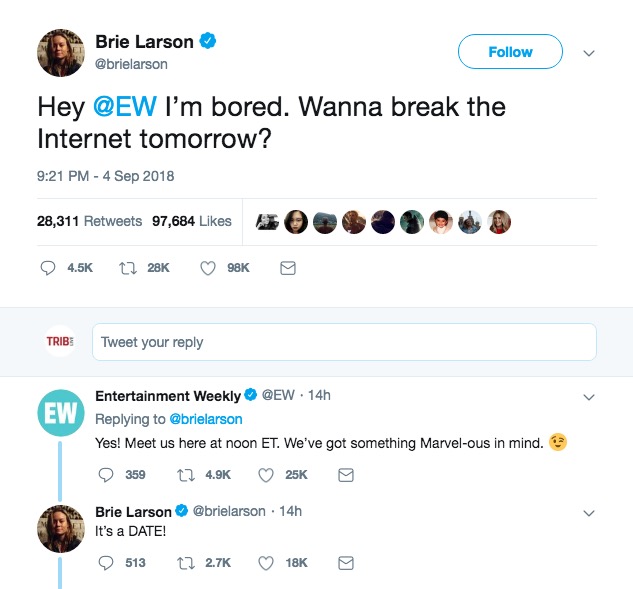 The film, directed by Boden and Ryan Fleck, is set to premiere in March 8, 2019. The fourth "Avengers" is scheduled to hit theaters May 3, 2019.