Talk about revenge porn.
Adult website YouPorn has "officially banned" its employees from consuming products from Starbucks on company property.
The move from the website, which allows users to view free XXX pornographic videos — in HD, mind you — is an apparent retaliation to Starbucks' announcement that the coffee company would begin blocking adult content on its stores' Wi-Fi next year.
The coffee giant had faced " years of pressure " to find a way to prevent customers from viewing pornography and other explicit content in its stores, according to Business Insider.
A two-sentence email blast from Alex Harris, YouPorn's communications director, reads:
"Following the news that Starbucks has blocked its customers from searching and viewing adult content within their establishments, YouPorn has updated their company policy banning all Starbucks products from its offices.
"YouPorn now runs on Dunkin'."
Seems more like a plot to get more doughnuts in the office.
The rule will be enforced Jan. 1, 2019, per an undated companywide memo: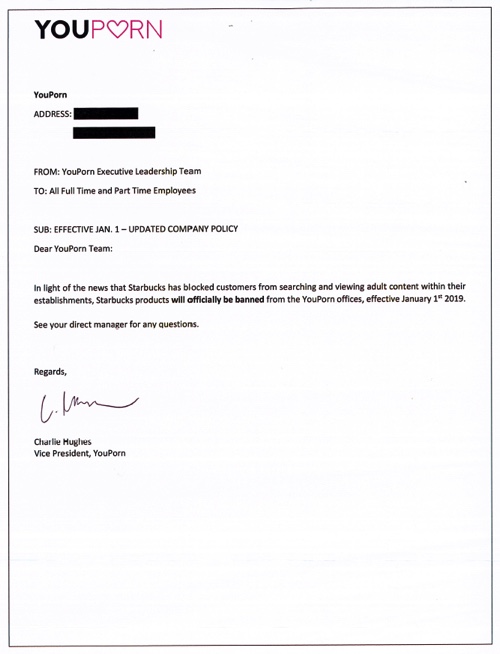 That'll teach those prudes at Starbucks.
Samson X Horne is a Tribune-Review staff writer. Reach him on Twitter @spinal_tapp.