Build-A-Bear offers discount after pulling out of promo
ASSOCIATED PRESS
---
ALLENTOWN — Chaotic lines reported across the country Thursday prompted Build-A-Bear Workshop to end a promotion only hours after it began.
The stuffed animal retailer held a "Pay Your Age Day" event Thursday, where stuffed animals that normally cost upwards of $20 were on sale for the age of the customer.
But lines at stores quickly got out of hand Thursday morning as parents and kids rushed to get in on the bargain.
Teddy bear madness! This was the line around 10:30 this morning for @buildabear "pay your age sale" day at West County Mall. @KMOV pic.twitter.com/3dubWKl0Ho

— Courtney Bryant (@CourtneyDBryant) July 12, 2018
At the Lehigh Valley Mall, people were waiting for hours in a line that wrapped around the entire facility.
The @buildabear line this morning at the Lehigh Valley Mall 10am pic.twitter.com/foWqQ7BVDv

— CearaP (@Plicycle) July 12, 2018
By 11 a.m., the retailer announced on its Facebook page that the event was off.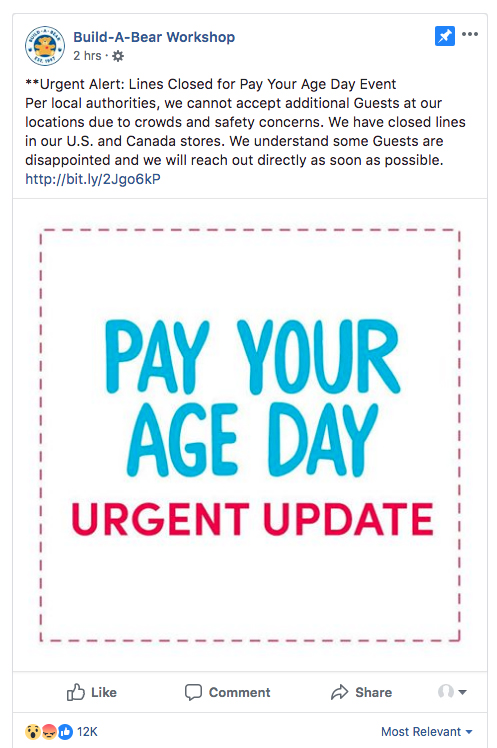 Around 6 p.m., Build-A-Bear emailed its "Bonus Club" members explaining that they will receive a $15 discount off their next "Make-Your-Own-Furry-Friend" visit. The company said it's the same voucher given to guests who waited in line were turned away.
Members must claim the discount online by July 15, while the coupon redeemable until Aug. 31.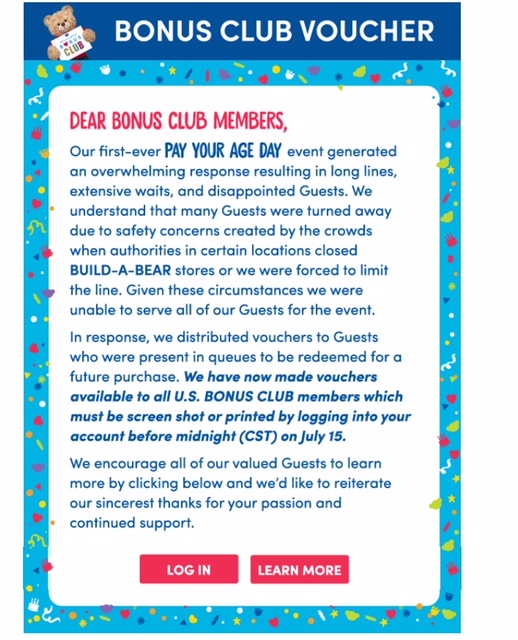 "Per local authorities, we cannot accept additional Guests at our locations due to crowds and safety concerns," the post said. "We have closed lines in our U.S. and Canada stores. We understand some Guests are disappointed and we will reach out directly as soon as possible."
NASA now reporting they can see the queues outside Build A Bear Workshops from space. ‍♀️ ‍♂️ ‍♂️ ‍♀️ ‍♂️ ‍♀️ ‍♀️ ‍♂️ ‍♂️ ‍♀️

— Big Mouth Princess (@BigMouthPrincss) July 12, 2018
The queue at build a bear . Livingston @buildabear . Right round the mall and outside pic.twitter.com/AFf93q8xvy

— Tank-Juicy (@tank_juicy) July 12, 2018
Thousands of upset customers quickly responded to the post, some expressing disappointment at walking away empty-handed after waiting in line for hours.
"Thanks for disappointing a ton of kids … because your decided to have a quick marketing grab with ZERO planning. Amazing," Facebook user Kerri Klerk wrote.
Others blasted the complainers for overreacting.
"All these people complaining about letting their kids down," Megg Wallen wrote. "I'm pretty sure your kid will survive without an additional toy to add to their massive collection because you want to pay $8 instead of $25. Maybe use this as a lesson to teach your kid that sometimes things don't work out."
TribLIVE commenting policy
You are solely responsible for your comments and by using TribLive.com you agree to our Terms of Service.
We moderate comments. Our goal is to provide substantive commentary for a general readership. By screening submissions, we provide a space where readers can share intelligent and informed commentary that enhances the quality of our news and information.
While most comments will be posted if they are on-topic and not abusive, moderating decisions are subjective. We will make them as carefully and consistently as we can. Because of the volume of reader comments, we cannot review individual moderation decisions with readers.
We value thoughtful comments representing a range of views that make their point quickly and politely. We make an effort to protect discussions from repeated comments either by the same reader or different readers
We follow the same standards for taste as the daily newspaper. A few things we won't tolerate: personal attacks, obscenity, vulgarity, profanity (including expletives and letters followed by dashes), commercial promotion, impersonations, incoherence, proselytizing and SHOUTING. Don't include URLs to Web sites.
We do not edit comments. They are either approved or deleted. We reserve the right to edit a comment that is quoted or excerpted in an article. In this case, we may fix spelling and punctuation.
We welcome strong opinions and criticism of our work, but we don't want comments to become bogged down with discussions of our policies and we will moderate accordingly.
We appreciate it when readers and people quoted in articles or blog posts point out errors of fact or emphasis and will investigate all assertions. But these suggestions should be sent via e-mail. To avoid distracting other readers, we won't publish comments that suggest a correction. Instead, corrections will be made in a blog post or in an article.