Man builds his horse an amazing AT-AT Walker costume for Halloween
Michael Corrie/Facebook
---
How do you go trick or treating with a horse?
Yeah, we know: "Very carefully."
But seriously. Building a costume for a 2,000-pound equine is not an easy task. Just ask Michael Corrie, of Mike's Tiny Shop in Martinsville, Ind. He did it.
His decided to dress his horse Moana as an AT-AT Walker from "Star Wars."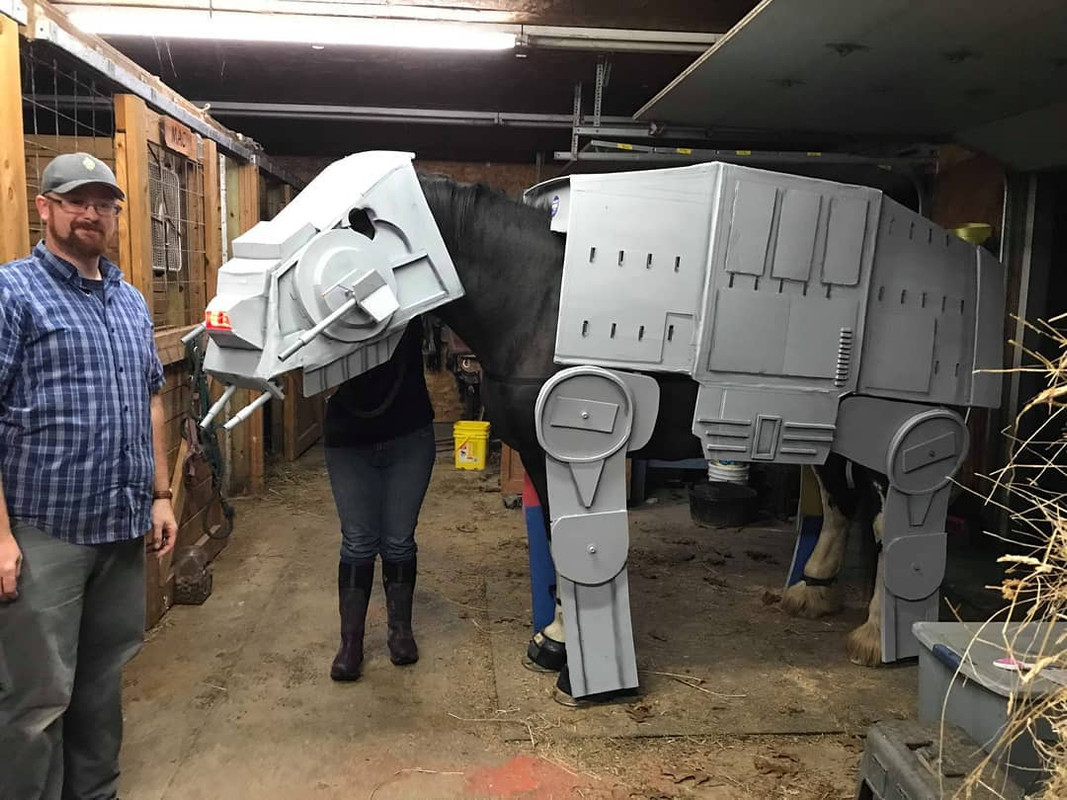 Moana wearing the completed AT-AT Walker outfit that Michael Corrie built.
Photo by Michael Corrie/Facebook
The 9.5-foot-long costume covers nearly all of Moana in Star Wars gear. All except her feet.
"Moana's feet are roughly the size of trash can lids," Corrie says on Facebook. "Any foam feet I made would deteriorate immediately. More importantly, it could negatively impact Moana if she were to trip or step wrong."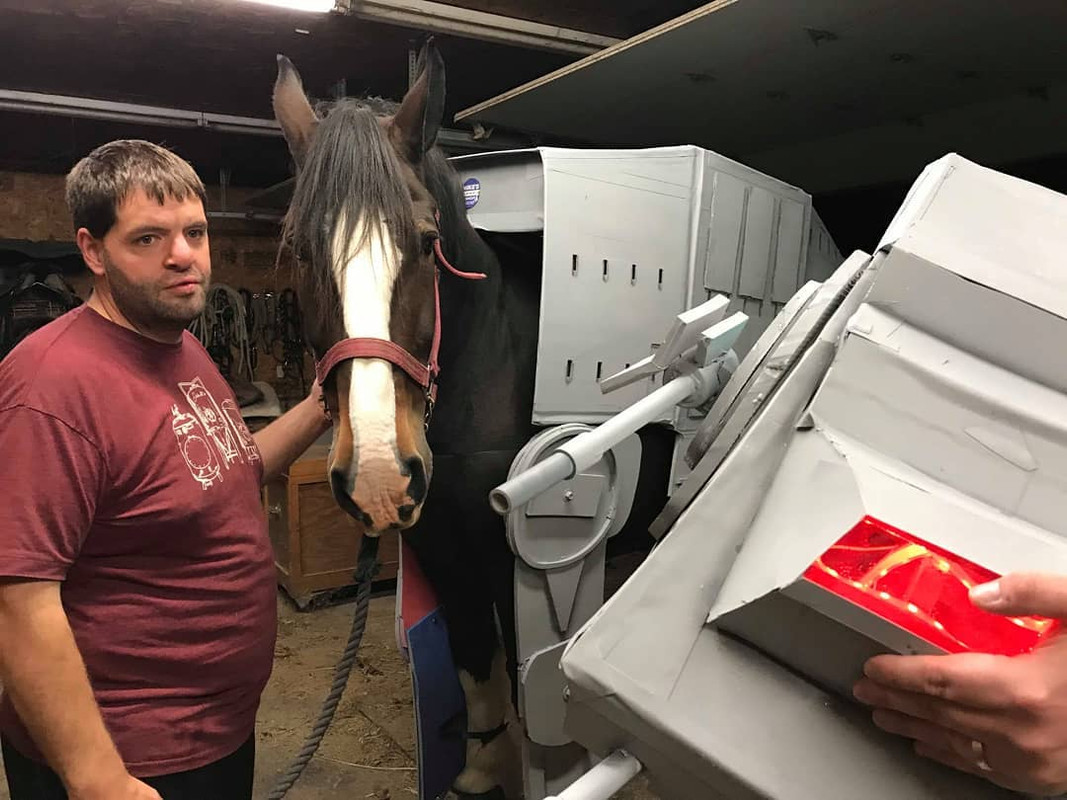 Moana gets ready to put the headpiece of her AT-AT Walker outfit on.
Photo by Michael Corrie/Facebook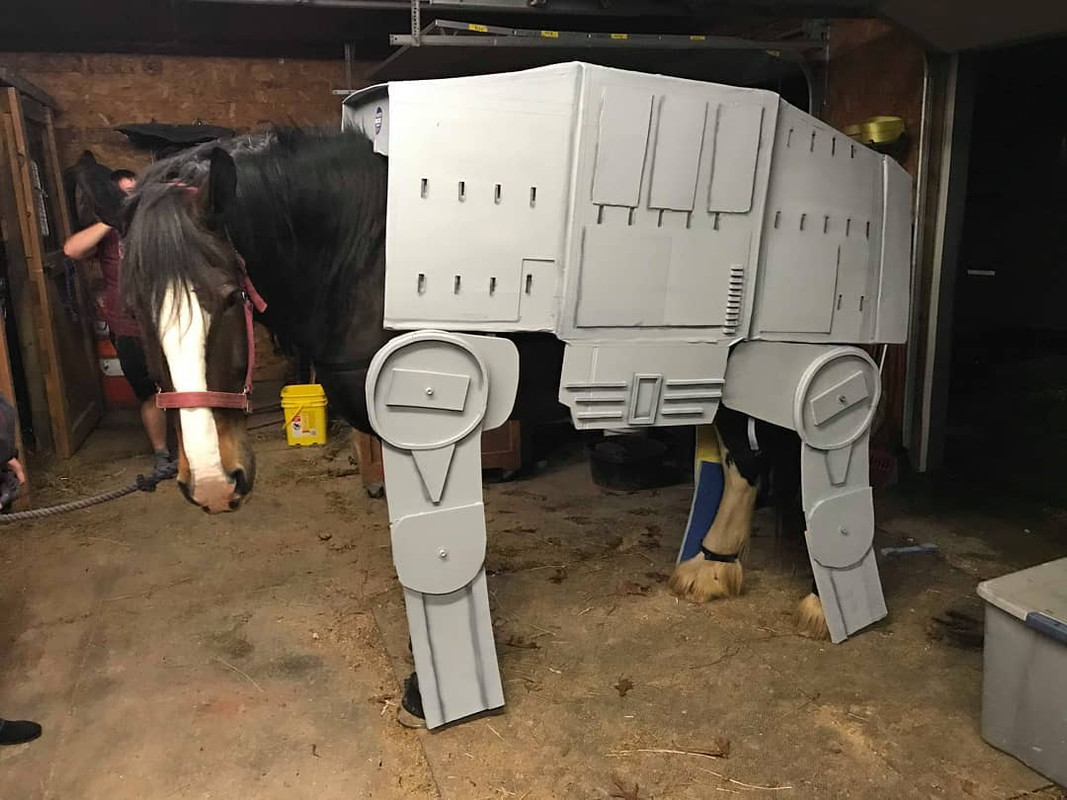 Moana doesn't seem to mind.
Photo by Michael Corrie/Facebook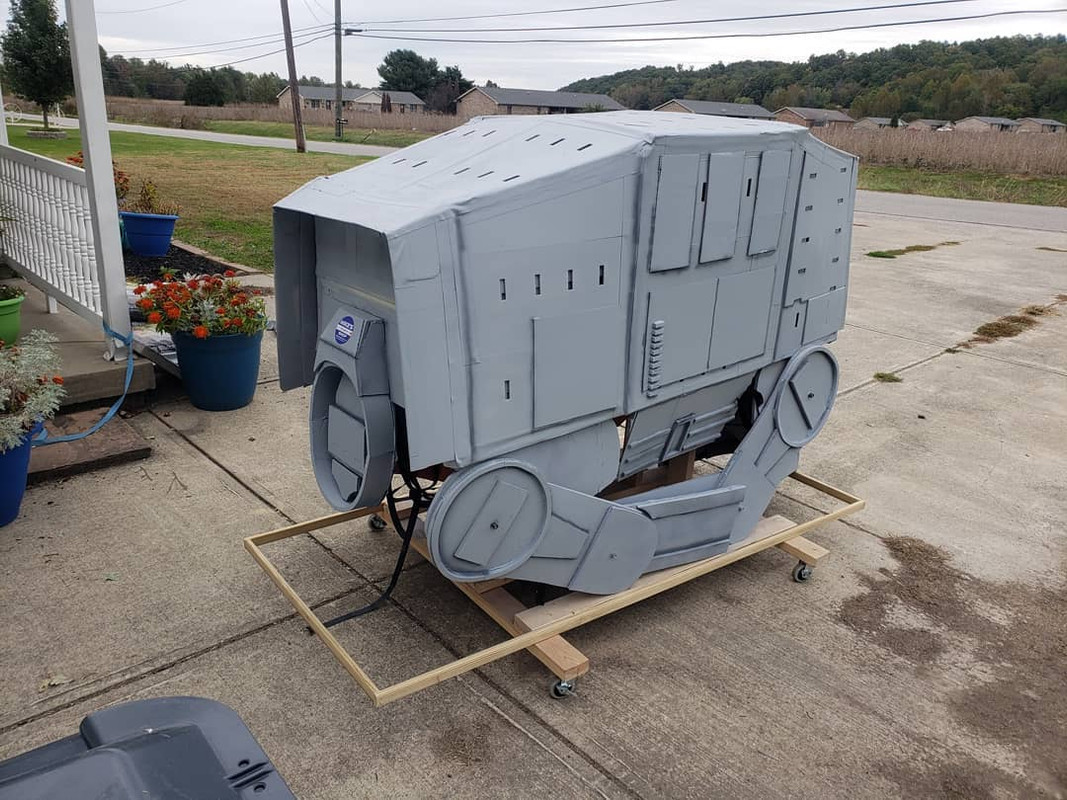 Michael Corrie's AT-AT costume is serious business.
Photo by Michael Corrie/Facebook
A lifelong "Star Wars" fan, Corrie says it took him six months — about 700 hours — to complete.
He says he built the costume for Moana's owner, Brianna Dickmon-Fry.
"About eight months ago, she asked if I could make this costume, as I've been making prop replicas and costumes for about five years," Corrie says. He agreed, "not realizing what it took to costume a 2,000-pound Clydesdale.
He posted his work on Facebook. While many praised his effort, several wonder whether doing such a thing was animal cruelty.
"Best thing about draft horses," Mike writes, "They (do) not care. Her comfort and safety were paramount in all of this. Early on, when we tested the components … if she had not liked them we would have abandoned the project."
Moana's costume will be shown off at the Worlds Clydesdale Show in Madison, Wisc., on Oct. 26.
Of course, building the costume isn't enough. Now Corrie is gunning to set the Guinness World Record for largest Equine Star Wars Costume ever built. He needs $1,000 to enter, and he's looking for bids with a GoFundMe page .
Chris Pastrick is a Tribune-Review digital producer. You can contact Chris at 412-320-7898, cpastrick@tribweb.com or via Twitter .