Scoobi scooters a fun way to zip around the neighborhood
Thirty miles per hour was plenty fast for me.
Scoobi, a scooter-sharing company launching in Pittsburgh, hopes to have people zipping around the city by the end of the month.
Scoobi CEO Mike Moran let me try out one of the company's scooters last week. The scooter was quick, easy to ride and steer and a fun way to scoot around Shadyside.
"I felt that there was a hole in the ride-sharing industry," Moran said, surrounded by a fleet of scooters crammed inside a Shadyside warehouse.
Moran grew up near Pittsburgh and graduated from Fox Chapel Area Schools. He's not a scooter fanatic — a friend in college had one that he borrowed sometimes to get around — but Moran thought the electric scooters could fit between bike-shares and services like Uber and Lyft.
A Scoobi ride costs $5 for the first 20 minutes and 20 cents for each minute after that. It's a cheaper alternative to Lyft and Uber, Moran said, and an easier one to pedaling around a Healthy Ride bike.
"Not everyone wants to be sweating through their shirts," Moran said.
At launch, the scooters will be available in Downtown, the Hill District, Downtown and parts of the South Side, Squirrel Hill, Oakland and Lawrenceville. Scooters can travel outside of the coverage area. But parking a scooter outside the coverage area will net the rider a $50 fine from Scoobi.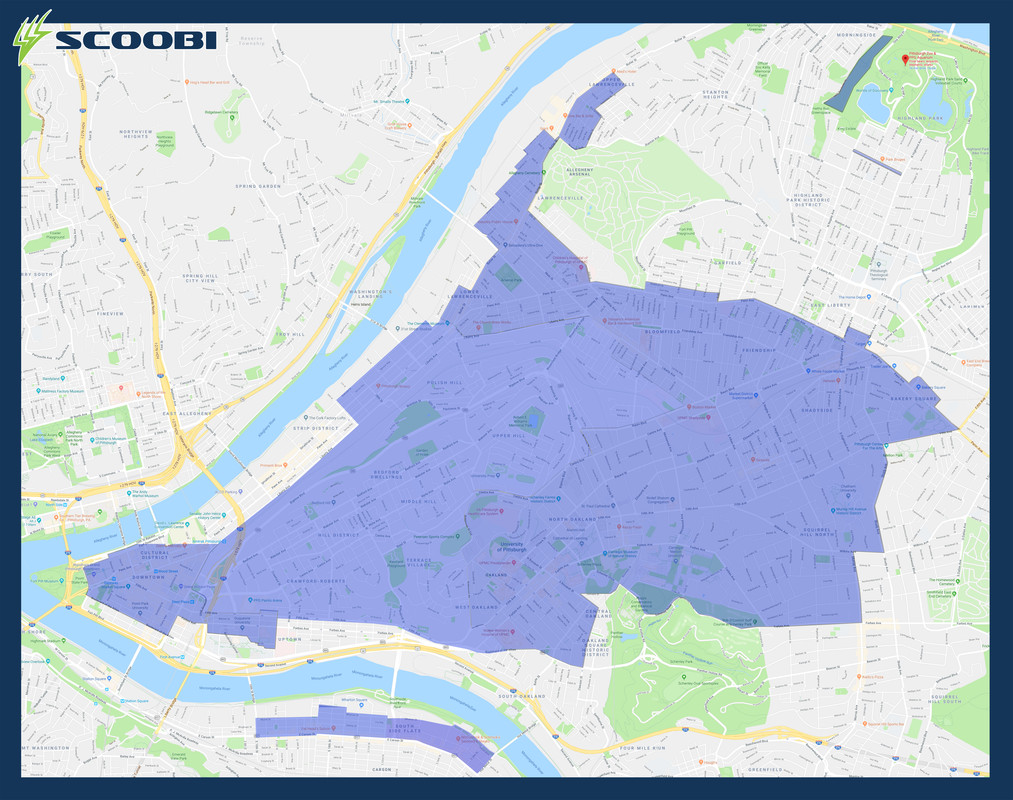 A map from Scoobi showing it's initial coverage area.
Scoobi isn't the first scooter ride-share company. Scoot was founded in San Francisco and uses the same scooters as Scoobi. Muving, a Spanish company, launched its scooter ride-sharing fleet in Atlanta on Monday.
Moran said he doesn't plan to expand Scoobi to offer the standup scooters that have become sort of a plague in cities across the country. Companies like Lime, Bird and Spin have launched dockless, scooter-share services only to have dead, mangled scooters litter the streets. San Francisco is making companies apply for permits to operate the scooters. Denver is kicking them off its streets.
On the Scoobi scooter, I did a few laps up and down Summerlea Street before venturing out into Shadyside. I turned a few heads as I rode down Walnut Street. My smile was huge. Forget the convenience of short trips without having to jump on bike or hail a car, this was fun.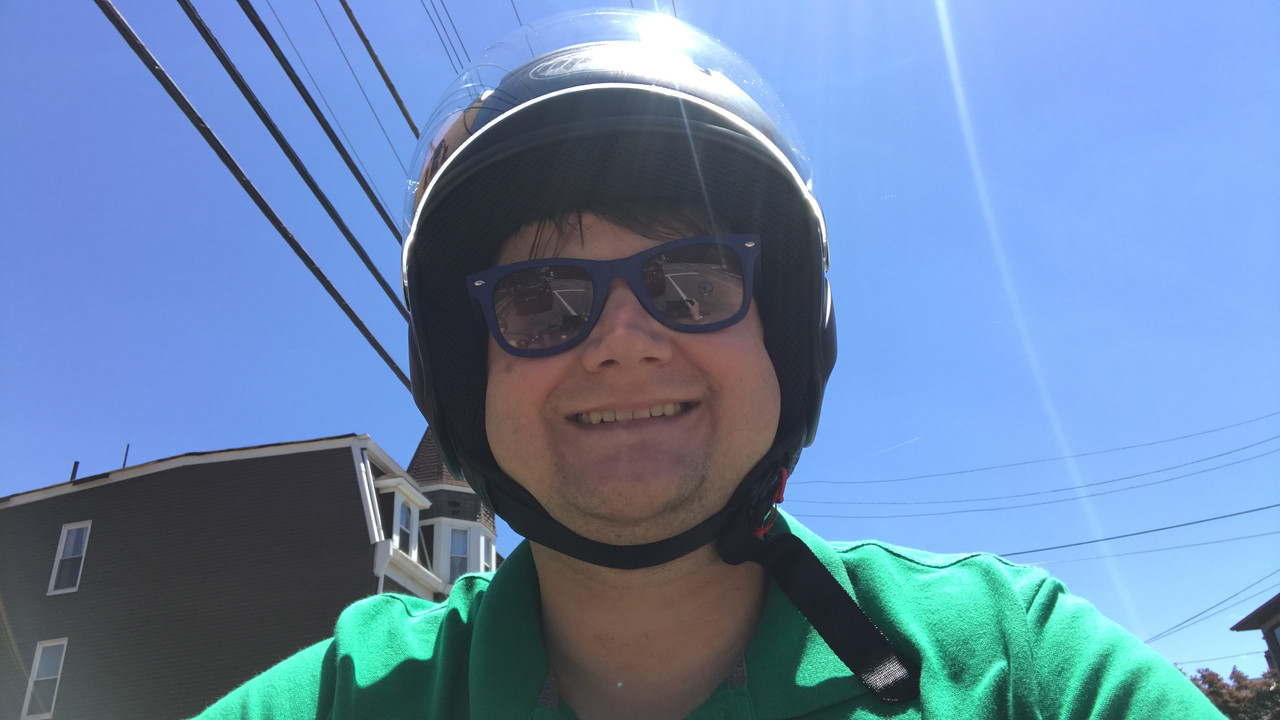 With a phone holder attached the handlebars, will Scoobi selfies become a thing?
The scooter's electric motor is silent. I didn't realize it was running when I first hopped on. The scooter takes off at the slightest turn of the right handgrip. There's no lag like in a traditional gas engine.
The scooters have a digital speedometer on the handlebars that also shows how much battery is left and how many miles the scooter can go. There are turn signals and a horn. Moran added cellphone holders and a USB phone charger.
The GenZe 2.0 scooters are made in Ann Arbor, Michigan, by Mahindra, an Indian company. The scooters start at about $4,300, according to the GenZe website.
The scooter's trunk has two helmets inside. State law doesn't require riders to wear a helmet but Moran's insurance does.
Riders will use an app to find, reserve, pay for and turn on the scooters. The scooters can go up to 34 miles on a charge. Charging stations will be located around the city, likely in parking garages.
A technician will roam the city streets each night swapping out dead and low batteries and taking scooters in for maintenance.
A bill will be introduced Tuesday to Pittsburgh's City Council to give the city's Department of Mobility and Infrastructure the authority to regulate companies that will use city streets, bridges, sidewalks or other public right-of-ways for mobility or transportation service. The legislation does not mention Scoobi or other companies by name.
The scooter I tried had enough power to ride with traffic on Emsworth, Aiken, Walnut and other streets. Moran said the motors have enough power to handle Pittsburgh's biggest hills.
The scooter was a little slow when I ventured out onto Fifth Avenue to really open it up.
But 30 mph was plenty fast for me.
Aaron Aupperlee is a Tribune-Review staff writer. Reach him at [email protected], 412-336-8448 or via Twitter @tinynotebook.
Andrew Russell | Tribune-Review
---