Complex, emotional task of preserving Tree of Life memorial begins in Pittsburgh
Trinkets will be painstakingly catalogued.
A white teddy bear with a blue embroidered Star of David. A silver, glittery Christmas ornament.
A description, measurements, photos and conditions noted for each.
Votives, some burned to the bottom, record but likely discarded.
Some flowers will be pressed and dried, but hundreds of bouquets that line the lawn outside the Tree of Life will become compost.
It's the life cycle of a memorial.
"At some point it has to shift, and that shifting is something that is involving a tremendous amount of emotional energy," said Eric Lidji, director of the Rauh Jewish History Program & Archives at the History Center.
Lidji, along with other archivists from the history center, offered help and guidance during the slow process of deconstructing the memorial outside the Squirrel Hill synagogue where a gunman killed 11 congregants on Oct. 27.
"When something like this happens, the thing that everybody is searching for is comfort, and that comfort takes a lot of forms," he said. "For some people, having a way to physically connect is the way they find comfort."
Those connections people make with the memorial — whether in person or through the media — make it challenging to decide when and how to begin to dismantle it and preserve it.
Lidji compared it to a heart transplant.
"It's possible to do it safely. It's possible to do it where the patient survives and lives a happy, healthy life afterward," he said. "But it's a complicated thing, and we're just trying to do it in a very deliberate, transparent way so that nobody — or as few people as possible — feel like the emotional energy they've put into this space isn't being cared for."
Mass shooting memorial experts
The Rauh Jewish History Program offered to archive and house memorial objects as part of its collection if the congregations that worship inside Tree of Life choose.
Lidji said it was the night after the massacre when the reality of it began to sink in.
"The historical magnitude of it sort of occurred to me, and I started to feel very overwhelmed by the prospect of figuring out how you handle something like this as an archivist," he said.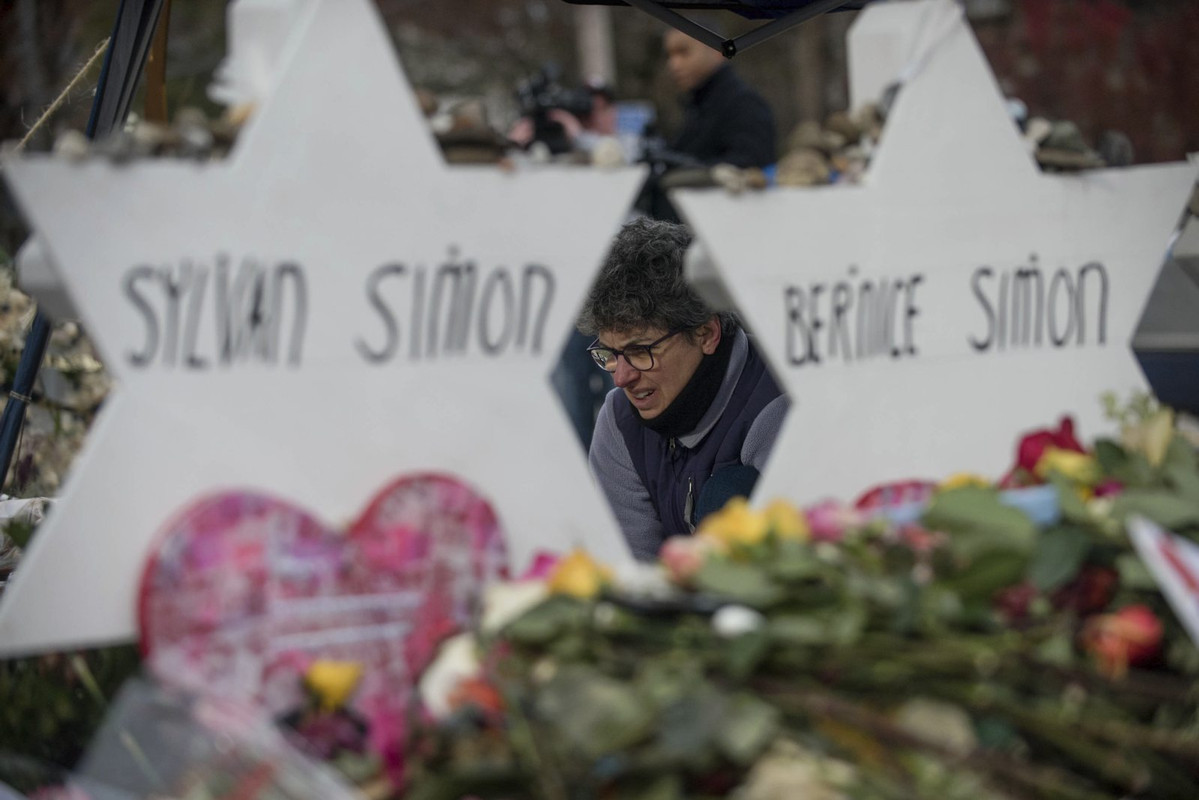 Laurie Eisenberg, Tree of Life Synagogue congregant and board member helps deconstruct the memorial in front of the synagogue, Wednesday, November 14, 2018. An archivist from The Rauh Jewish History Program & Archives was brought in to preserve and document the memorial during it deconstruction.
The steady drumbeat of mass tragedies has led to an informal, information-sharing network of such professionals, each one learning from the last and offering their lessons and advice to the next, from Orlando to Las Vegas to Parkland to Pittsburgh.
On Monday, Lidji received an email from Orlando, Fla.
Pamela Schwartz offered advice. Be transparent with the public and the victims' families. Let people know that the deconstruction will happen. Proceed with your heart first and your head second.
Schwartz is intimately familiar with the process. As chief curator at the Orange County Regional History Center, she undertook the massive effort to document, preserve and display the memorial items left in the aftermath of the 2016 Pulse nightclub shooting.
By the early morning hours after the shooting, she'd come up with a five-page collection plan, realizing that while those living in the present might not wish to delve deep into the tragedy, researchers and relatives of the future will want to understand. It took 31 days to collect and document each piece left at four public memorials near the nightclub. Schwartz said that early on she realized how life-altering the shooting would be for the area. She likened the magnitude of that to Disney choosing the area for its park.
She also realized that she and her small team that took on the Pulse project have unique knowledge that most museum coordinators and curators don't. When a gunman killed 58 people at a country music concert in Las Vegas in October 2017, Schwartz decided to reach out.
"I said, 'You know what, I'm just going to send an email,'" she said. "I'm just going to say, 'We're here, we've been there, we can help if you want.'"
Picking through the remnants of one of the first mass shootings to become a media event fell to Jenny Hankinson, the curator of collections at the Littleton History Museum in Colorado. Though she did not join the museum until 2000, she undertook much of the work of documenting and archiving the memorials left on and around the Columbine High School campus after the 1999 shooting that killed 13.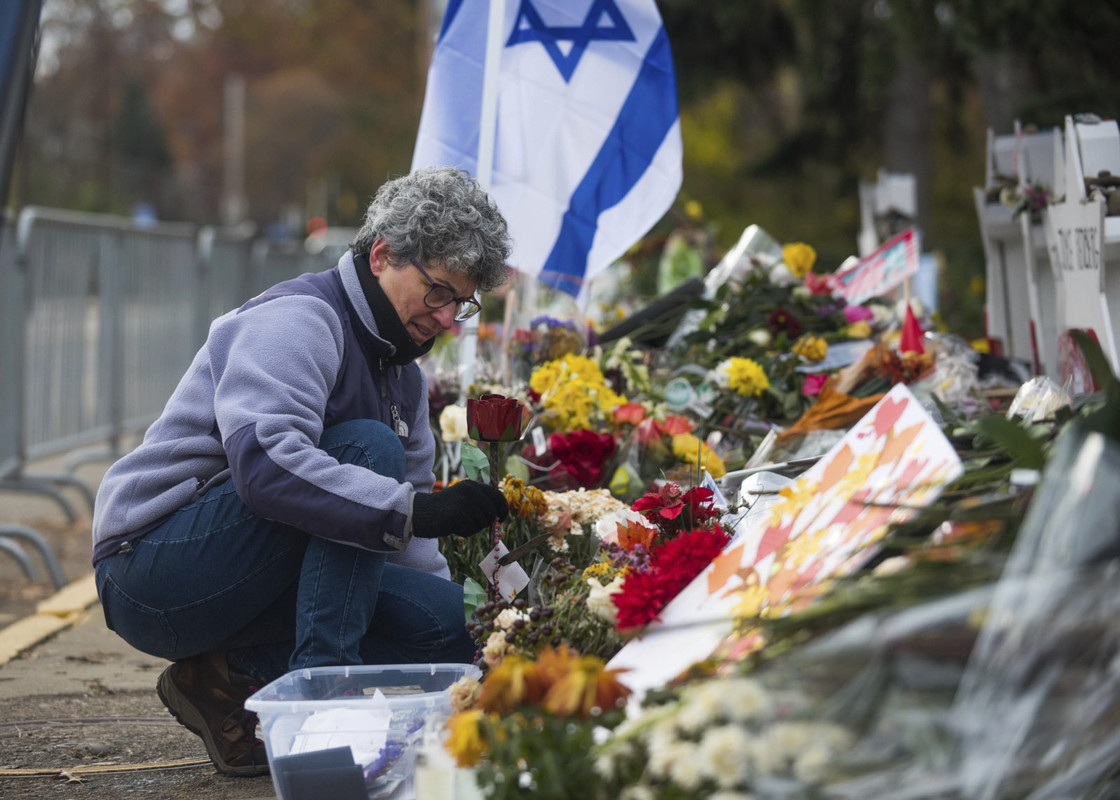 Laurie Eisenberg, Tree of Life Synagogue congregant and board member helps deconstruct the memorial in front of the synagogue, Wednesday, November 14, 2018. An archivist from The Rauh Jewish History Program & Archives was brought in to preserve and document the memorial during it deconstruction.
Some were left on soccer fields, some on street corners, some on the victims' cars that were still in the school parking lot. In 1999, Beanie Babies were popular, and many were left at each memorial. The number 13 was everywhere, too.
The families were given the opportunity to take what they wanted from the memorials. The flowers were dried and turned into potpourri.
"Most of the stuffed animals were taken in by dry cleaners, cleaned, and given out to local kids," she said.
Of the tens of thousands of items left, the museum took in about 860, Hankinson said. The collection came to the museum in 2000, and it took five or six years to process everything.
Since then, she said, preservation professionals have asked for guidance. When the Texas A&M bonfire structure collapsed and killed 12 people in November 1999, officials there asked the Littleton Museum for help.
Officials in nearby Aurora reached out in 2012 after a gunman opened fire on a midnight showing of "The Dark Knight Rises," killing 12 people.
"It's kind of a big deal for us to be able to talk to other communities going through this," Hankinson said.
6,000,011
Laurie Eisenberg, a Tree of Life board member, was at the corner of Shady and Wilkins avenues about 9 a.m. Wednesday. She first picked through all of the paper mementos tucked among the hundreds of bouquets. She moved aside the large posters and laminated pieces and began gathering the smaller, water-damaged notes and pictures.
"It's just really impressive and really reassuring and comforting that so many good people come here," Eisenberg said at the memorial.
More congregants arrived as the morning wore on, making piles of bouquets that will become compost and sorting rocks into one collection of boxes and candles into another.
Some of the materials will be put into a display that will sit behind the glass doors of the synagogue lobby area, where visitors can walk up to the glass and look inside. They will not be able to enter.
Lidji said archivists will look for memorial objects that expand the general understanding of the event and its aftermath. He noted over the weekend a stone painted with "6,000,011" – six million and eleven. It is a reference to the 6 million Jews killed in the Holocaust – plus the 11 Tree of Life victims.
"It means whoever left that is connecting the Holocaust to this event," he said. "That's the kind of thing that 50 or 100 years from now will be very resonant for people to know: That this was in people's minds – that fear and that concern was in people's minds."
Many items have come from outside of Pittsburgh, and even outside of the United States. Many have also come from outside the Jewish community.
"(Those) give a sense of how a tragedy within the Jewish community resonates out through the broader society," Lidji said. "That's really interesting to document as well."
Eisenberg said members of the three congregations that use the synagogue – Tree of Life, Dor Hadash and New Light – understand that it is now up to them to preserve the pieces of what happened there. Researchers, family members and the next generation will want to see and understand what happened there Oct. 27 and how the community responded.
"Unfortunately what we have suffered here is an historic event," Eisenberg said. "This is a club you don't want to belong to. Once you're inducted into the club against your will … you have to accept responsibility and have to step up."
Megan Guza is a Tribune-Review staff reporter. You can contact Megan at 412-380-8519, mguza@tribweb.com or via Twitter .
Megan Guza | Tribune-Review
Megan Guza | Tribune-Review
---