Vince Carter signs with Hawks, enters 21st NBA season
Getty Images
---
There's insanity and then there's "Vinsanity."
NBA fans will get at least one more year of Vince Carter after sources said he signed with the Atlanta Hawks ­— embarking on his 21st pro season.
Which is insane — er Vinsane.
To put things in perspective, Carter was drafted three months before new teammate Trae Young was born.
Vince Carter was drafted 3 months before new Hawks teammate @TheTraeYoung was BORN. pic.twitter.com/Mw8ZJJrJTb

— ESPN (@espn) July 25, 2018
This is how new @ATLHawks teammates Vince Carter and Trae Young were honing their skills back in 2000: pic.twitter.com/TDJncrsYML

— Stadium (@WatchStadium) July 25, 2018
In all seriousness, here's how remarkable the feat really is.
According to ESPN, Carter is second all-time with number of different players who have played in at least one game as his teammate (228). Juwan Howard has the record with 236.
Carter, along with Dirk Nowitzki and Jason Terry are the only three NBA players who played in the 90s. Fun fact: In 2011, the all three played for the Dallas Mavericks.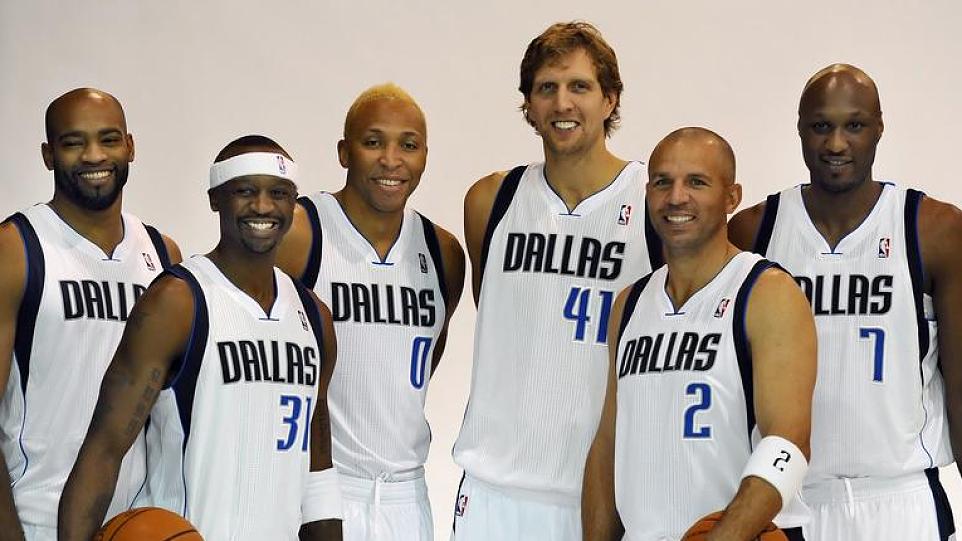 Carter (left), Terry (31), Shawn Marion (0), Nowitzki (41), Jason Kidd (2) and Lamar Odom (7)
As USA Today Sports' For The Win noted, "It's pretty phenomenal that Carter continues to sign with different teams that have no chance of winning championships this late in his career. You'd think that he'd want to chase after his first ring, but it seems like he's just playing for the love of the game."
The Vinsanity moniker started after Carter won the 2000 NBA Dunk Contest when he showcased ridiculous hops after completing a dunk by dipping his arm through the net at elbow's length.
Carter, an 8-time All-Star and Olympic gold medalist, also displayed the ability to be a clutch player.
This is still our favorite Vince Carter. #MFFL pic.twitter.com/d9KlAN7hVs

— SportsDay Mavs (@dmn_mavericks) July 26, 2018
The journeyman's contract with Atlanta is a 1-year, $2.4 million veteran minimum deal, according to sources.
This will be Carter's eighth team, after stints with the Mavericks, Toronto Raptors, New Jersey Nets, Orlando Magic, Phoenix Suns, Memphis Grizzlies, and Sacremento Kings.
The aforementioned Nowitzki, who has played his entire career in Dallas, is also entering his 21st season.
The duo joins Robert Parish, Kevin Willis and Kevin Garnett as the only NBA players to play 21 seasons.
Samson X Horne is a Tribune-Review staff writer. He can be reached at [email protected] or via Twitter @spinal_tapp.
TribLIVE commenting policy
You are solely responsible for your comments and by using TribLive.com you agree to our Terms of Service.
We moderate comments. Our goal is to provide substantive commentary for a general readership. By screening submissions, we provide a space where readers can share intelligent and informed commentary that enhances the quality of our news and information.
While most comments will be posted if they are on-topic and not abusive, moderating decisions are subjective. We will make them as carefully and consistently as we can. Because of the volume of reader comments, we cannot review individual moderation decisions with readers.
We value thoughtful comments representing a range of views that make their point quickly and politely. We make an effort to protect discussions from repeated comments either by the same reader or different readers
We follow the same standards for taste as the daily newspaper. A few things we won't tolerate: personal attacks, obscenity, vulgarity, profanity (including expletives and letters followed by dashes), commercial promotion, impersonations, incoherence, proselytizing and SHOUTING. Don't include URLs to Web sites.
We do not edit comments. They are either approved or deleted. We reserve the right to edit a comment that is quoted or excerpted in an article. In this case, we may fix spelling and punctuation.
We welcome strong opinions and criticism of our work, but we don't want comments to become bogged down with discussions of our policies and we will moderate accordingly.
We appreciate it when readers and people quoted in articles or blog posts point out errors of fact or emphasis and will investigate all assertions. But these suggestions should be sent via e-mail. To avoid distracting other readers, we won't publish comments that suggest a correction. Instead, corrections will be made in a blog post or in an article.