Tim Benz: Exposing city-wide 'media campaign' to run Penguins' Phil Kessel out of town
Chaz Palla | Tribune-Review
---
Add The Athletic to the list.
This week, the website became the latest outlet in Pittsburgh to join the city-wide media conspiracy to "run Phil Kessel out of town."
Say it with me: "Just like what happened to him in Toronto!"
Mentioning cards at Rivers Casino is of course far more scathing than bringing up a hot dog cart in Canada.
There you have it. The agenda is real.
The Phil Kessel DePhense Phoundation on Twitter should be credited for unearthing this nefarious plot to actively force one of the Penguins' best players away from Pittsburgh.
Simply type "media, Pittsburgh, Kessel" into a Twitter search, and you'll get these.
Dear Pittsburgh Media:We love Phil Kessel. Stop trying to vilify him and drive him away. #LogOff and deal with your problems on your own.xoxo, Penguins fans

— Golden Knights Fan Blog (@PensInitiative) May 23, 2018
Fans: Letang is washed upMedia: Kessel is a bad team playerMe: Pittsburgh, eat a Snickers already

— Eric Bowser (@EricBowser) May 27, 2018
Pittsburgh media is the worst #kessel #penguins

— Name Entered (@nameenteredhere) May 25, 2018
pittsburgh media members loved to laugh at the way the toronto media ran phil kessel out of town, but are now doing the same thing after he helped the penguins win back to back stanley cups lol y'all goofy

— ego (@EvgeniMaIkinEgo) May 23, 2018
If you work for any Pittsburgh media & bashed Phil Kessel then come to Slippery Rock & square up. I'm serious. If you're part of the reason Phil Kessel is unhappy being in Pittsburgh then come fight me. You clowns are running a huge talent out of town & the @penguins will suffer.

— Caleb the Cook (@coopdizzly) May 24, 2018
We've been part of it here at TribLive . Similar stories and sentiments have been expressed in other outlets.
These reports have come from direct competitors. They've originated from people who wouldn't benefit from corroborating information put out by opposing outlets.
So then, wouldn't one be inclined to believe information about potential interest in exploring trade options for Kessel?
Exactly! That's what we wanted you to think! And we would've gotten away with it if it weren't for those darned kids on Twitter.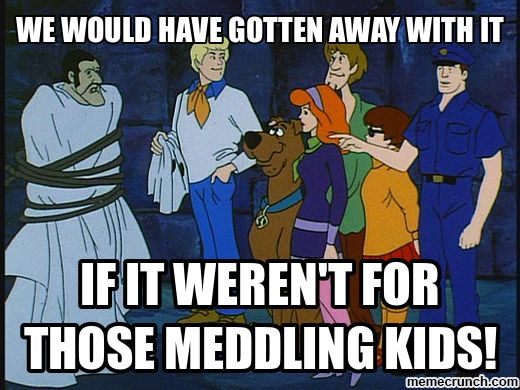 The Phil Kessel DePhense Phoundation exposed all of us. The Pittsburgh sports media is universally known as a group of people who always get along regardless of affiliation, perpetually put egos aside and often cooperate to concoct stories that have no foundation in fact.
Plus, we are fantastic at keeping industry secrets and never jump the gun to credit something.
As the Phil Kessel DePhense Phoundation has pointed out, the reason Penguins reporters have linked arms in this unified front to "run Phil out of town just like in Toronto" is he's not a willing interview.
Pittsburgh sports media in 2015: "Phil Kessel is a good fit in Pittsburgh, where he won't have to face the media when things don't go well for the team"Pittsburgh sports media in 2018, when things don't go well for the team:"WAIT ARE YOU SERIOUS PHIL KESSEL WON'T TALK TO US?"

— Chris (@_tweetsbychris) May 22, 2018
Watching all of Pittsburgh defend phil kessel when the media continues to trash him for not speaking to them pic.twitter.com/i2Im2jsmzX

— Lauren (@laurengranata) May 24, 2018
Hence, it's our goal to get him off the roster. That would clear the path for soundbite-master Daniel Sprong. He's a young player who has given us such legendary quotes as … um … well … let me think of one for a min …
Anyway, let's get back to the Penguins' long and storied history of doing whatever the media wants.
Whether it's been Ray Shero or Jim Rutherford, both general managers have a track record of catering to the whims of the press. Those guys traded Colby Armstrong, Marc-Andre Fleury and Ian Cole. All of whom were renowned for being notoriously uncooperative media adversaries, right?
It dates to the 1990s. Remember the tremendously popular Markus Naslund-for-Alek Stojanov trade? And Tom Barrasso was unliked by many reporters. So they only kept him around for a quick 12 seasons.
OK, I'm even tired of my sarcasm at this point.
So to be clear, Kessel is a great player. The irony of this rub between the press and "Phil Nation" lately is few in the media are endorsing a Kessel trade. They are merely reporting it could be investigated and giving fans the reasons why.
In fact, I've heard many of those who have reported on this topic say they'd rather see the Penguins keep Kessel, stick him on a line with Evgeni Malkin full time and try to work it out.
That's an opinion I share.
And for the record, the only time I really wanted Kessel to talk was to address his perceived injury on locker cleanout day . Aside from that, he tries to be a lousy interview on purpose so reporters will go away. Therefore, it never bothers me when he fails to speak.
Kessel's fan base is uniquely protective and boisterous. I'd get less blowback if I wrote that Mario Lemieux is selling the team to bankroll an international dogfighting ring than if I wrote one negative item about Kessel.
I firmly believe Kessel's fans act so protectively because they personally see a role in his success. They think since they were more patient with him than fans in Toronto or Boston, they somehow should get partial credit for his renaissance with the Penguins.
Because he's portrayed as a lovable, frumpy scamp in GIFs and memes here — instead of a brooding malcontent as he was elsewhere — that makes for a winning, symbiotic player-fan relationship.
If you believe all that, I applaud your loyalty.
But any suggestion there is some sort of spiteful, coordinated, media campaign to force a trade of Kessel to another club goes well beyond loyalty.
It's irrational lunacy.
Tim Benz is a Tribune-Review staff writer. Reach him at [email protected] or via Twitter @TimBenzPGH.