First call: Le'Veon Bell teases hope about Steelers contract on Instagram
Getty Images
---
In "First Call" today, Steelers running backs keep us guessing. Singing Saquon's praises. Ugly baseball injury. Heavy metal meets hockey.
---
Le'Veon Bell doubles down
Earlier this week, Le'Veon Bell said that he was hopeful he and the Steelers can work out a long-term contract. For those — like me — who think that may just be talk from Bell (because he tends to do that, you know), he doubled down on Instagram. He posted a picture of himself running with the thinking emoji and the word "optimistic."
I'd love to share that optimism. But until I hear word that Le'Veon Bell is willing to come way off of his $14.5-$17-million-per-year demands, I'll just reply with rolling eye and shoulder shrug emojis.
---
D-Will is d-ciding
Is former Steelers running back DeAngelo Williams retired? Or just waiting to be signed?
Is there a difference?
Two days ago, Williams made it look like he was still holding out hope that a team may take a shot at signing him even though he is "retired." He tweeted this workout video and included the hashtag #retiredandstillworking.
But then he tweeted a simple "Thanks" when a fan wished him well in retirement.
Thanks https://t.co/acZ6rK66m1

— DeAngelo Williams (@DeAngeloRB) June 26, 2018
The only thing that's clear here is that there is a thin line between "retired" and "unsigned" when you are a 35-year-old running back.
---
Barkley is the best
Saquon Barkley continues to do everything right. I mean, if you saw the ESPN the Body Issue, we know he's never skipped a workout or — you know — eaten a carb.
Saquon Barkley's Body Issue photo pic.twitter.com/g1JHzHpoFQ

— Heart of NFL (@HeartofNFL) June 27, 2018
The Penn State running back's football skills are beyond reproach. Not only on the field but also in his combine testing. That's how he became the No. 2 overall pick. The Giants were smart to grab him.
And he was smart to make this his first major purchase: a house for mom and dad.
On draft night, @saquon made a promise to his mom.This week, he fulfilled that promise. pic.twitter.com/bNLqntNwrl

— NFL (@NFL) June 27, 2018
The 3,355-square foot house has four bedrooms and three bathrooms and is about 90 minutes from MetLife Stadium, home of the Giants, according to TMZ.
---
You have to see this
Actually, no, you don't. In fact, don't look at all.
VIDEO: Jake Jewell who was just called up today by the #Angels , suffered a major leg injury trying to tag out JD Martinez at home. (Graphic) #RedSox pic.twitter.com/2AB5CPc9bp

— Red Sox on CLNS (@RedSoxCLNS) June 28, 2018
You looked, didn't you? That was Anaheim pitcher Jake Jewell. That had been his ankle. It got stuck charging home plate at Fenway Park. He was carried off the field. It was just Jewell's third MLB appearance.
There is a still-shot in this link that you also shouldn't look at.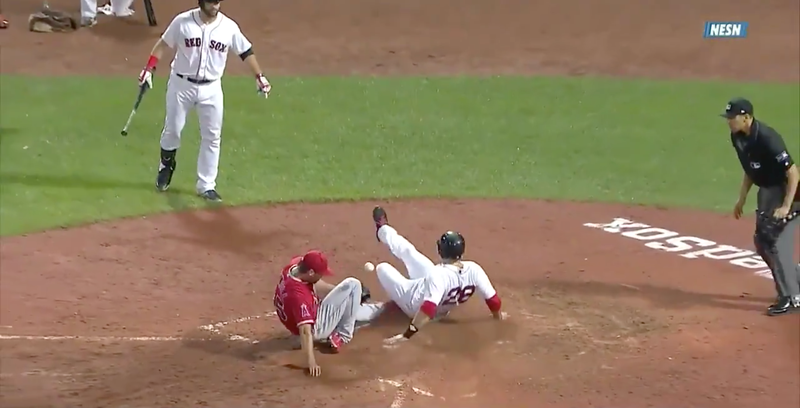 </iframe?
Geez! When are you going to start listening to me?
---
Puck and Pantera
If you have heard the Dallas Stars win a game at any point over the last 20 years or so, you have heard this celebration song.
That's from historic metal band Pantera. It lost legendary drummer Vinnie Paul Abbott last week. He suffered a heart attack at the age of 54. Paul and his brother Darrell became extremely tight with the 1999 Dallas Stanley Cup team. Pantera even hosted the Cup after-party. The legends of that night put Lord Stanley's trip to the bottom of Mario Lemieux's pool to shame.
Dallas Stars writer Mike Heika wrote a fabulous story about the relationship between the band and the team.
If you like metal and you like hockey, you owe it to yourself to read this.