Le'Veon Bell sure seems like he wants to play for the Colts
AP/Tribune-Review
---
Has Le'Veon Bell found his team of choice once the season is over?
Probably not. But I'm sure he'd like the good people of Indianapolis to think so. Especially those good folks in the front office of the Indianapolis Colts.
At least his latest social media dalliance would suggest as much.
The NFL recently sent out a post on Instagram touting Andrew Luck's good play of late in his return from injury.
Bell responded with the "wide eyes" emoji and the comment "just imagine."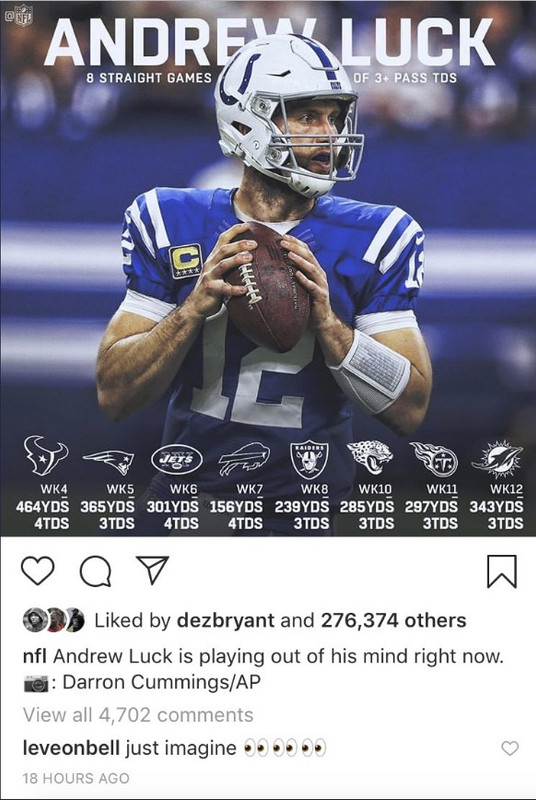 Oh. I can imagine. And my imagination says it's pretty good for the Colts. A combination or Luck, Bell and T.Y. Hilton might not be Bell, Ben Roethlisberger and Antonio Brown. But it's still pretty good.
Furthermore, Bell would be going into a division without a dominant team. It's an indoor-stadium club that plays other teams mainly in good weather or inside. And it's a team that may not beat him senseless with 400 carries per year.
And the Colts are on the rise. Heck, at 6-5, they may even make the playoffs this year let alone with potentially more help in 2019.
They have money to spend, too. Indy may have the highest open cap figure in the league between seasons. ESPN reported the Colts have $123 million to spend.
No wonder Bell sees them as such an attractive destination if and when he eventually becomes a free agent.
The question is, would the Colts want Bell as much as Bell has reason to want the Colts?
The Colts are currently using the "back by committee" approach with Marlon Mack, Nyheim Hines and Jordan Wilkins. That has resulted in a good — not great — running game. It's 18th in the NFL.
The "bang for the buck" factor isn't bad. All those guys are second-year players. They are cheaper than what Bell would demand, by far. So if general manager Chris Ballard wanted to spend money elsewhere to fill other voids, you could understand why. Plus he drafted all of those guys.
Here are a few reasons the Colts may be willing to give Bell a long-term contract, though.
• The market on Bell may be deflated enough that they are still willing to be a top bidder and have money left over to make improvements elsewhere.
• If they don't sign Bell, many believe division rivals Tennessee and Houston will have interest.
• Of those three running backs, only Hines is highly involved in the pass game. He has 40 catches. The other two have combined for just 24. Bell is an excellent receiver.
• If the Colts are concerned about over-exposure to injury for Luck, what better way to offset that than a running back who got more than 800 touches in his previous two seasons?
• The allure of Luck, Hilton and Bell might be too interesting to pass up.
I don't know if Bell wants to be a Colt as much as this post would have us believe. What I do know is this: In the coming months, he'll probably do the same thing on social media for any post involving the Titans or Texans.
Or Jets.
Or Buccaneers.
Or Eagles.
Or Patri … you get the point.