U mad, bro? Readers pop off on Antonio Brown, Le'Veon Bell, Connor McDavid, MLB proposals
Chaz Palla | Tribune-Review
Chaz Palla | Tribune-Review
---
"U mad, bro?" this week brings heavy criticism against Antonio Brown and Le'Veon Bell again.
Dare I say too much?
Connor McDavid takes some heat, too.
People don't seem to like MLB's proposed three-batters-per-pitcher mandate. But they are warming up to the Unabomber.
Seems right to me.
---
Ron had this to say about Antonio Brown's legacy, if it is coming to an end.
@TimBenzPGH @MarkMaddenX @MaddenProducer This play defined/microcosm of AB's career in Pittsburgh. Looking for greatness but forgot about the details and the qualities necessary to get there. https://t.co/maVt33oXDI

— Ron Raimondi (@RRmondi) February 14, 2019
If you can't access the link Ron is referencing, he's talking about the ridiculous lateral play the Steelers almost pulled off against the Dolphins on a snowy day at Heinz Field back in 2013.
Yes, the one where Antonio Brown got into the end zone at the end of a game to potentially win it. But he stepped out of bounds — untouched — first, and the Steelers lost 34-28. I understand what you are getting at, Ron. Brown never won a ring here. And highlights are more important to him than victories. Also, details such as where the sideline is, when meetings occur and what the speed limit is on McKnight Road seem to elude him.
I get it. No one has been a louder critic of A.B.'s attitude and actions than me. But inferring that this play defines Brown's time in Pittsburgh as a player is nuts. I'm going to go with this one instead.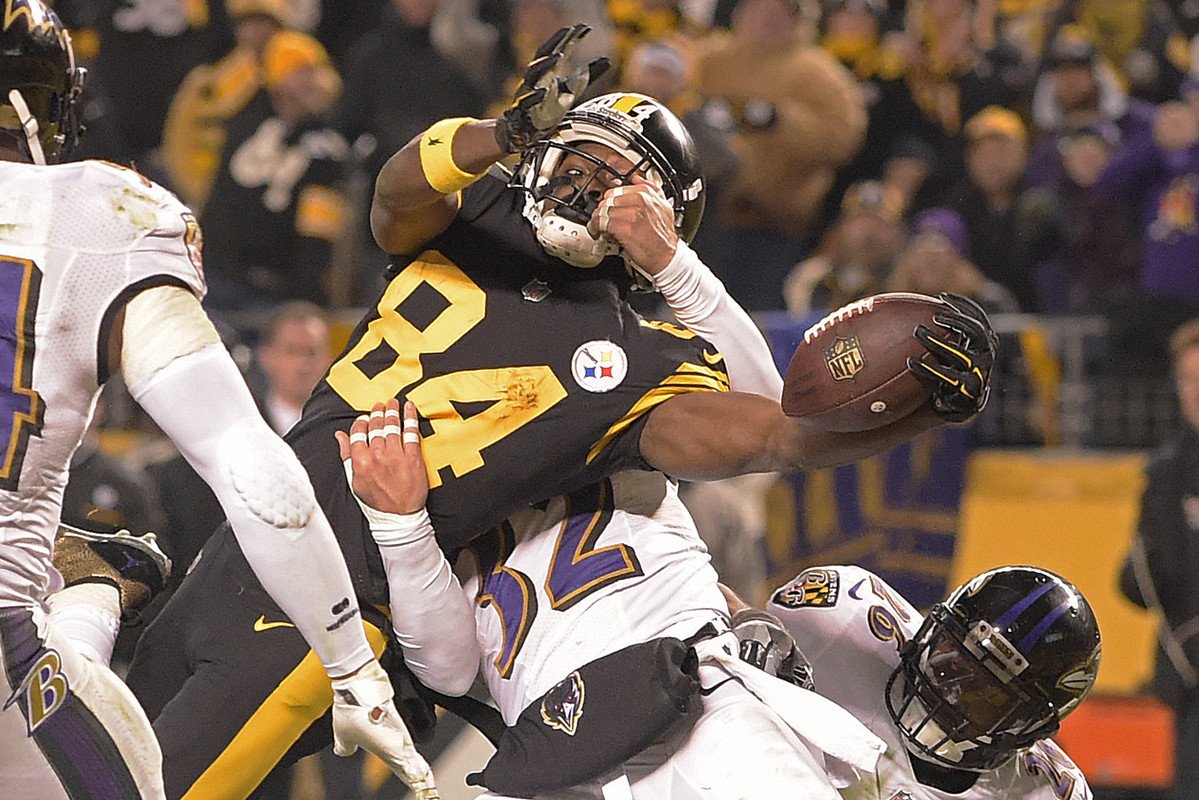 Antonio Brown reaches the ball across the goal line for the winning touchdown against the Ravens on Christmas Day 2016 at Heinz Field. AP photo
---
Paul in Michigan sent an email about Brown and Le'Veon Bell.
"I think both, especially Bell, have had success because of a great offensive line, blocking for Bell and giving Ben (Roethlisberger) time to find Brown and the other receivers.
Will they be as fortunate with a great offensive line wherever they land?"
Similar to the email above, Paul, I'm not on board with diminishing the skill sets of Brown and Bell in the name of piling on their failure as teammates — and people.
Being mad at them for how they have tried to engineer their way out of town is one thing. Working this hard to suggest they are products of the Steelers system is something else.
Have they benefited from the blocking of a good offensive line? Yes.
Were they aided by playing with Ben Roethlisberger? Of course.
Will they be as good elsewhere? Unlikely.
Will they still be excellent players? You bet.
---
Sheldon in New Brunswick emailed me about the comparisons between Sidney Crosby and Connor McDavid. I discussed them in our Wednesday podcast with Sportsnet's Mark Spector.
"McDavid is a very talented player and maybe the best one-on-five player. That doesn't make him the best player.
97 plays for 97 and wants the points to win the scoring title and that is why he plays so many minutes. Not the coach's call. It is 97's call. When (Ken) Hitchcock took over as coach, they won several in a row as the team played as coach wanted. Then they get tired of watching someone play for themselves. As I see it, that is the main reason they went bad all of a sudden.
Sid is the ultimate team player. He sets up his wingers and D often during a game. You don't see that with 97. He will pass it and wants it back right away.
Sid is the best player in so many ways!!"
Sheldon, at this stage, McDavid is faster and the better scorer.
Crosby is definitely a better all-around player. He is superior through the full 200 feet of the ice. He's a proven winner. McDavid isn't.
Crosby plays a more stout and physical game down low and in the corners. He's far more skilled in the faceoff circle, too.
Of Crosby's three Stanley Cups, the first one came in his fourth season. This is McDavid's fourth season. And he ain't getting there this spring, that's for sure.
That's not all McDavid's fault. And I think you may be working too hard to make it seem like it is. A lot of the complaints you are making about McDavid are basically that he is a points-hungry player who will sacrifice team success for personal glory and stat-column titles.
Many people made the same assessments about Mario Lemieux and Michael Jordan early in their careers.
How did they wind up?
---
Mark sent me an email regarding the column I wrote about the MLB idea of forcing every pitcher to face at least three batters before he is removed. I expressed a concern that managers would fake injury to get around such a rule.
This was Mark's theory to thwart that practice.
"Make a new three- or five-game (not five-"day") DL, for pitchers that don't face 3 batters. Let the manager decide if it is worth it to take him out sooner."
That sounds extreme, Mark. Which is exactly why they might do it.
Something severely punitive like that needs to be written into the rule if it is crafted. Otherwise, it'll become a farce and teams will jerk it around like crazy.
But I bet something even that significant will still be manipulated.
---
Jeff replied to a column I wrote about Kareem Hunt signing in Cleveland.
I've said for yrs, if he ran a 4.4, the Unabomber would get a contract

— Jeff Jankovich (@JeffJankovich) February 12, 2019
Hmmm. I don't know. Coming out of the Ivy League at Harvard? A little rusty with all that time away from the game. May need to show a little more than that. How was his cone drill?
Tim Benz is a Tribune-Review staff writer. You can contact Tim at [email protected] or via Twitter @TimBenzPGH. All tweets could be reposted. All emails are subject to publication unless specified otherwise.